Blasting abrasive enters into a stream of compressed air and gets a real acceleration in the outflow or leakage from the blasting nozzle. Our sand blasting is used in the chambers and cabins for hand blasting. so there are many kinds of sand blasting chambers and small sand hoppers. Generally speaking, sand blasting chambers are manual sand blasting device. Our shot blasting is powered with compressed air, the abrasive media is accelerated to 50-60m / s impact to the workpieces' surface.It is a non-contact, less non-polluting method of surface treatment.
This sand blasting room is widely used in hull, gas stove, boiler and wind power and other big steel products industry. It mainly includes the cleaning room body, scraper and screw conveyor, bucket elevator, sand and dust separator, dust collector, electric control system, electric flat car and soon on.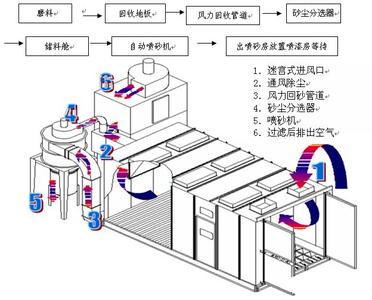 This sand blasting room has scraper mat .so we called it scraper sand blasting room.